Walked in the American Heart Association Heart Walk on Saturday
New work schedule and having to get up earlier to make it in to work
Raised over $600 for the Heart Walk!
Mike's transmission went out
Mike found a great deal on a transmission
Found out the transmission doesn't fit in his truck and probably can't return the transmission
Went to Kandace & Koosh's Wedding on Saturday and had so so much fun!!
Gaillardia (where the wedding was) over-served me and the rest of the reception guests to a drunken stupor
Now my whole body is achy because of all the wine!
Latest Favorite quote from a kiddo at work, "It smells like a horses fart!"
Baseball Season has officially started! Go Yankees!!
Have to do my mountain of laundry
Creeper that tell you creepy things and make things awkward
DON'T LOVE
We're going to Italy!!
Casey only has a short time left in Afghanistan!!
Our ants came back in full force killing themselves off by the Hot Shot, leaving goosebumps amount of dead ants on our countertop
DON'T LOVE
although, I think I

LOVE

that they may be gone now
My good Friend Tiffany has finished a painting of Remi for me!
Getting my Garden ready for planting!
LOVE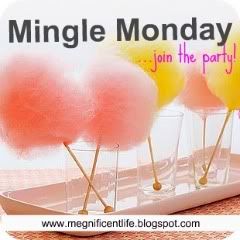 Head over to Mingle Monday with
Life with Meg
to visit some great blogs!