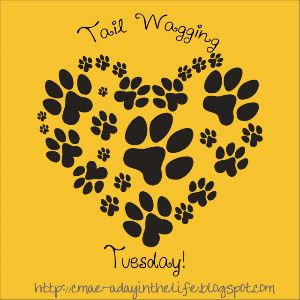 So I'm linking up with CMae and her
Tail Wagging Tuesday
! If you know me...you know my animals are my kids with a fur coat. I love them and treat them like my babies and I really feel they complete our family in our life thus far! So until real babies do come, these are my Apples of my Eye! It was really hard to just pick one, but I did do it and if next week Tail Wagging Tuesday doesn't have me post more pictures of my sweet furkids...I may just have to make this a weekly thing of my own. I laughed so hard at some of the pictures of them. So anyway, enjoy!
Meet Jerry!
This is our bullfrog that comes back every year to see us...I hope to see him in the near future!
Meet Nellie! (aka Nelbert Wilber by her daddy-o)
She will be 4 years old in May. We got her right after we got married in June 2007.
She was helping me prepare our anniversary dinner in this picture.
Remi (aka Remington, Remi-doodle, Rem-Tin-Tin, etc.)
Remi will be 2 the end of April, we got her shortly after we bought our first home.
This is when she was about 10-12 weeks old and she was having a hay-day in the dirt!
And here's the whole gang!
Luna and Panda (bottom left and top right) are Casey's dogs and since he's stationed in Japan (currently in Afghanistan) Mom and Dad are keeping the pups. Maggie-Moo (top right) is my parents dog and then Remi. They are the best of friends!
Let's see your furkids!!
Hope you had an awesome Tuesday. Dad came over and help me begin my Garden Frame! So excited!