Wow! Well, I have been completely been MIA for quite a while now. I wish I had a good excuse, but mostly just haven't made time to do any blogging.
Thanksgiving came and went and it was fabulous. I worked Thanksgiving Day and hung out with the kiddos at work in the morning. So many people are usually like, "Aww you had to work on Thanksgiving?" But I really don't mind it. Since I started working in the hospital with kids, I never seemed to mind taking some time to spend with them on Thanksgiving. Besides, my family doesn't do too much for Thanksgiving until the afternoon and it gets me out of having to cook anything.
So after I left work, Mike and I headed to the 'Stix' to my aunts house...I love her house and where she lives, it's just a ways out there. But it's always beautiful that time of year. We had a blast and some yummy yummy food. Then we headed to Mikes grandparents for leftovers and more football. Mikes parents had been in town all week from Florida. It was so fun getting to spend time with them.
I took the Friday after Thanksgiving off, but I don't do the crazy Black Friday shopping. I've thought about it before and that's about as far as I got. But I did get the Christmas Tree out and started to put up the Christmas decorations. I'm still not done....I get side-tracked very easily!
On Saturday, Mike and I went to the Bedlam game and it was tragic. My Cowboys couldn't pull off the win for the Big 12 South Champions. I screamed and cheered and then wanted to puke. We had been defeated. I'm over it now...but it did take a while and I still love my Pokes!
I have been still taking pictures and will be posting soon I hope! I've been a very very bad 365er for the past month. But oh well.
I hope that everyone had a fabulous Thanksgiving and is getting ready for Christmas. For my blogging friends that live in the North, I want to see some beautiful snowy pictures! You never know what you are going to get with Oklahoma weather, but we haven't had snow yet. It's just now starting to get cold...and guess what, our heater mother-board is deciding to fizzle out! Perfect timing huh?!
Oh and thanks to
Shutterfly
I ordered our Christmas cards tonight! I got 50 free 5x7 folded cards and then paid for a few more flat 5x7 cards because our Christmas list is still a tad long. So here's a glimpse of one of the cards...(I couldn't figure out how to just add the card)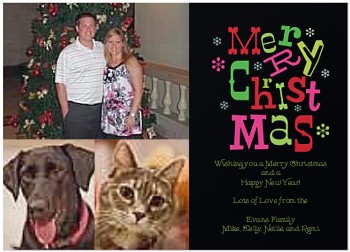 And some of my decoration....
Our OSU Tree!